AMD has announced two new products at GDC '16 to further its VR ambitions: the Radeon Pro Duo, which it claims as "absolutely the most powerful graphics card in the world by far," and the Sulon Q™ VR/AR headset.
The Pro Duo would be a dual-GPU featuring two Fury X-class graphics cards running side by side, running at a whopping 16 teraflops of compute performance, and using AMD's trademark LiquidVR™ Technology to add to the goal of enabling "rich and immersive VR experiences by simplifying and optimizing VR content creation designed to work seamlessly with leading headsets." Additionally, the fact that it has two distinct graphics chips on one card will help reduce latency, a key point for VR development.
AMD marketing executive Chris Hook, said in an interview to Gamespot that they wanted to do a "VR card", asking "What would happen if we took professional workstation-class drivers and gaming drivers and fuse them together to create a platform that would not only give you great scaling across pre-vis and post- and rendering applications… but would also be a great gaming platform?" The card is expected to hence be used primarily by developers, particularly those developing software for use in VR.
The Radeon Pro Duo will apparently be out in Q2 2016 and will carry a price tag of $1500. Its product page can be seen here.
The Sulon Q headset, developed by AMD in assocation with Sulon Technologies Inc., boasts of seamless transition between VR and AR thanks to Sulon's advanced Spatial Processing Unit. But perhaps more interestingly, it uses a tether-free, "wear and play" design. This allows the headset to have everything it needs "on-board", without the need for bulky cables or external systems or connection to CPUs.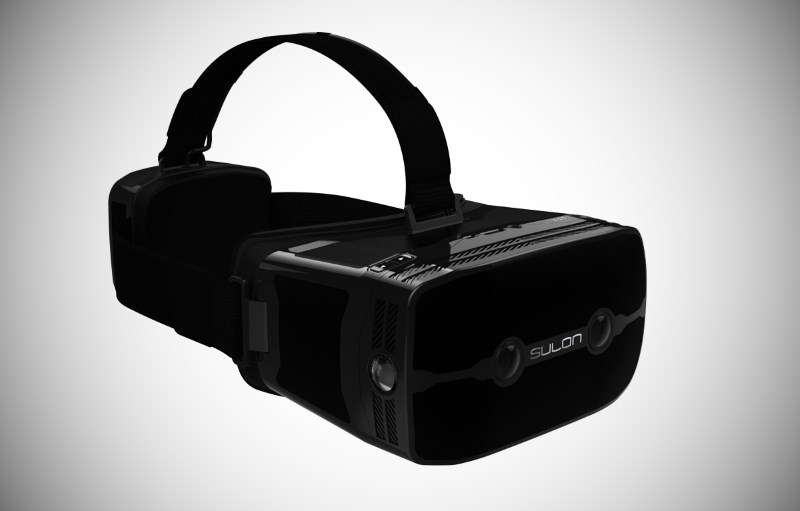 The Sulon Q is packing some serious punch too: it will be using the AMD FX-8800P processo, taking advantage of the  full performance of 4 compute cores and 8 GPU cores. It will also be capable of driving the latest graphics APIs including DirectX® 12 and Vulkan™, and able to render console-quality visuals on a 2560×1440 OLED display. It will ship with Windows 10 pre-installed, have built-in WiFi and Bluetooth 4.0, two USB 3.0 Type A ports, and a Micro HDMI out port.
AMD has not yet announced a release date or price for the Sulon Q.
It is evident that AMD is pursuing VR with increased fervour now, working towards uses outside gaming. It has partnered with Associated Press for a news-gathering VR app, while it's working with Fox Studios for a VR experience based on the upcoming Assassin's Creed movie. Given the trend in GDC and the technology market in general, it seems like VR is definitely the future.
CHECK OUT OUR LATEST PODCAST